On my show TrailMix February 5th, I discussed a little of Ariane Grande's newest album, thank u next that was going to be released on Friday. The album, which was promoted on Ari's Instagram page for Sweetener, promised a series of songs discussing both her relationship with Pete Davidson, a well-known comedian, and Mac Miller, another singer who recently passed away. Her pre-released singles, "thank u next", "7 rings", and "imagine" all pointed to a R&B flow that seemed like it would be present in the rest of her new album. Ariana Grande did NOT disappoint. I tried staying up Thursday night so I could listen to the album in true fanatic fashion, but I fell asleep early. However before class, I popped in my earbuds and listened to the full scope of Ariana Grande's two week creative genius over and over and over again, until I understand each of the lyrics and meanings of the songs.
To begin, the album starts with one of her singles, "imagine", which is commonly believed among fans to be about Grande's past boyfriend, Mac Miller. In "imagine," Grande imagines a world in which she and Mac Miller had worked out as a couple, where the two would eat pad thai and sleep in the days. Though "thank u next" was blatant about names, "imagine" used more subtle imagery to direct fans to believe the song is about Mac Miller. For example, Mac Miller was well known for having a large tattoo of the word imagine on his bicep. The end of the song is beautiful with whistle tones that also hint at the first Mac Miller song Ariana Grande featured on, "The Way" that also contains notes that are reminiscent of Mariah Carey's notorious high-pitched tones.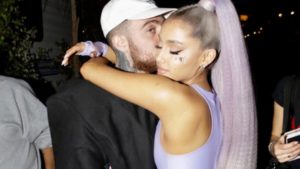 "needy," the next song on the album, is more Grande's classic style. The rollercoaster that Grande references to could beher break up with Pete Davidson or the death of her ex-boyfriend, Mac Miller. This song reminds us of the anxiety of a relationship where we don't receive enough attention but we're too scared to ask for it for fear of rejection. The string instruments at the end of the song reminds us that in this album Grande experimented with different genres of music, like in her single 7 rings where the artist combines Broadway music with her classic pop sound. The next song on her album "NASA" is almost the complete opposite message of "needy," where Grande states she needs space from her lover. The song begins with a quote from Shangela, a Ru Paul's Drag Race star, who quotes the famous words said by Neil Armstrong when he stepped foot on the moon. Most of the song seemed space themed in nature with echo sounds that remind us of the abyss of space. The title "NASA" is a pun in relation to Grande insisting that she needs space, and her lover acts as NASA, traveling after her into space.
In "bloodline" the next song on the album, Ariana Grande records her grandmother speaking as the introduction. Her grandmother speaks about how nothing will satisfy her, and this perfectly sums up the song that talks about an unsatisfying relationship. Grande seems to know this relationship is either a hookup, fake for public relations, or a fleeting relationship. Grande doesn't want the subject of the song to be part of her "bloodline" or her family line, which ties perfectly into having her grandmother say the introduction to her song. Fans have thought that the song could be about Pete Davidson, but Grande has not commented. The next song on the album is "fake smile" which seems to be a very real and honest piece about the struggles of fame and celebrity status. This song is a personal favorite on the album due to the introduction by Wendy Rene's song from 1964 "After Laughter (Comes Tears)" which has been referenced in other artists' works like Wu Tang Clan. AJR, another well known group, frequently references the pressure of publicity in their songs like "Weak" and their most recent release, "100 Bad Days." The smile might be hard to fake after all Ariana Grande has experienced, especially the terrorist bombing on her concert in 2017. The next song on the album "bad idea" is actually one of my least favorite songs on the album because there isn't much development in this song compared to the other songs on her album. The most exciting thing about this song is the reference to "Ari-Chan"during the chorus. Ariana Grande has been vocal about her interest in Japanese culture and uses many references to the culture in her "7 rings" video. Grande has been taking Japanese lessons for a while, though she has proven herself to still be a novice with the poorly translated tattoo on her hand of Japanese barbeque finger.
"makeup" is the next song on the album and it's really truly just about sex, with many sexual references. While many artists have explored the ideaof making up after an argument with sex, like Makeup Sex by Somo, Ariana Grande places this into her album that is filled with R&B tunes that reveal an inner truth to Grande's celebrity. This seems to be a homage to the pop music culture that made Ariana Grande popular. The next song in the album is "ghostin" which seems to be about her complicated relationship with Pete Davidson after the death of Mac Miller. Grande seems conflicted in her relationship, almost as if she feels like a ghost while going through the motions of being in love. She seems to apologize to Davidson for her state and acknowledges his patience by saying "You've been so understanding, you've been so good." Grande stated in a tweet that in her mind, ghostin is about "feeling bad for the person you're with bc you love somebody else. feeling badly bc he can tell he can't compare…. and how i should be ghosting him."
The next song on the album is called "in my head" and it's fully about Ariana Grande's relationship with Pete Davidson and how she felt that for most of the relationship she had built up a construct of love that was just in her head. The line about being caught up in the moment in the his sheets could be a reference to Pete Davidson's proposal, which occurred while the couple was laying in bed. Additionally, it is interesting that Grande references Biblical figures like an angel, devil, and Cain and Abel. She uses these to describe how others saw the fall of her relationship before she did, including her friend Doug Middlebrook whose phone message is the introduction to the song.
The next song on the album is "7 rings" which was released prior as a single. This song blends music from "My Favorite Things" from The Sound of Music with Grande's traditional sound. The song discusses Grande's retail therapy, extreme wealth,and friendships that kept her going post-breakup. There is an interesting backstory to this song, as after Ariana Grande returned her engagement ring, she bought 7 rings from Tiffany & Co. for Grande and 6 of her other friends.
The next song on the album is the namesake of the entire piece, "thank u next" and has a beautiful music video to go along with it that references many classic chick flicks like Mean Girls and Bring it On. Both "7 rings" and "thank u, next" exude the same energy of opening a new chapter in Grande's life after her breakup with Pete Davidson and the strength of self-love. "thank u next" has many tributes to all of her exes in the song, including her listening out their names in the beginning verse.
The final song on the album is "break up with your girlfriend, I'm bored" which seems to be a mean girl anthem for Ariana Grande. While in the song (and in the music video) Ariana Grande tries to lure a boy away from his girlfriend, Grande seems to be saying that she is only doing this to please herself in the end.
All in all, Ariana Grande did not disappoint with her album, which will serve as a rallying cry for everyone burned after a breakup.
More Posts for Show:
TrailMix